Tutorials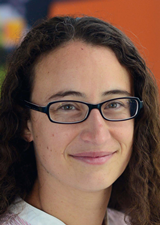 Dr. Myriam Servières
If you tell me what you look at, I could tell you where you are.

Some state of the art pose calculation methods in computer vision.
In this tutorial will address the state of the art methods in the computer vision field to get the pose of the camera (position and orientation of the camera optical center) depending on the type of information in the field of view. It will introduce the basis about camera systems and how to calibrate them. Then it will detail some state of the art methods to calculate the pose based on different inputs as 3D models or extracted features. After retrieving the initial pose, an introduction to some current tracking methods will be given.­
Dr. Myriam Servières is associate professor in computer sciences at École Centrale Nantes and a member of the AAU lab since 2006. She received an engineering degree and a DEA (Master) in applied computer science from Centrale Nantes in 2002 then she achieved a PhD in university of Nantes in 2005. Her research interests are in on-site precise geolocalisation, Augmented Reality and usages of such techniques in urban environments.
Click here to download a printed handout version of the tutorial .


Dr. Gaetano Galluzzo

Martin Šunkevič
Using GNSS Raw Measurements on Android Devices

Towards better location performance in mass market applications
The tutorial will focus on GNSS raw measurements and their implementation on the Android platform, available from version 7 Nougat. The tutorial will cover:
GNSS basics needed for understanding the raw measurements like GNSS receiver architecture, importance of time, navigation message, pseudorange generation or position estimation
Information on how to generate the GNSS reference time and step-by-step approach for deriving the pseudoranges from Android
Opportunities and practical use of GNSS raw measurements with particular focus on the use of Galileo
Market potential and examples of application areas that could benefit from using raw measurements
Moisés Navarro-Gallardo was born in Ibiza, Spain, in 1986. He received the M.Sc. in Electrical Engineering in 2010 and the Master Degree in Design of Telecommunication Systems in 2011 both from Universitat Autònoma de Barcelona (UAB). He has been involved in the INTEGRA project, working on the synchronization of OFDM systems. In 2011, he has been working on the investigation of signal processing techniques for unambiguous tracking for GNSS signals, especially PRS-like BOC modulations at ESTEC-ESA, Noordwijk, The Netherlands. He has been working in ESA Navigation Receiver laboratories supporting Galileo program during the IOT and IOV phases and several projects related to Galileo and GNSS receivers. Since 2015 he is working in Airbus as Navigation User Receiver Testing Engineer. Since 2016 he is supporting GSA within the Galileo System contract acting as technical leader of the User Segment Support team.
Dr. Gaetano Galluzzo is a radio navigation engineer at the European Space Agency (ESA) - European Space Technology and Research Centre (ESTEC), The Netherlands since 2011. His current work focuses on the Galileo system performance verification, development of system monitoring platforms and performance metrics standardization. He graduated in Aerospace Engineering at the University of Naples "Federico II" Italy in 2007 and earned his PhD in Aerospace Engineering from the University of Glasgow UK in 2012. Since 2017 he has been involved in the coordination of an ESA Young Graduate Trainee competition for the implementation of an Android app able to process Galileo raw measurements.
Ing. Bc. Martin Šunkevic has been dealing with satellite navigation and its applications for more than ten years. After finishing studies at Czech Technical University and University of Economics, he started his proffesional carrier in Czech Space Office as national delegate to European Space Agency in the field of satellite navigation and telecommunication. In 2012 he changed for Ministry of Transport of the Czech Republic, retaining previous responsibilities and adding cooperation on formulation of national space activities strategy. He has been working in European GNSS Agency since april 2015 as Market Development Innovation Officer, being responsible for couple of R&D projects, coordination of GNSS receivers` testing campaign and of two GSA`s publications: GNSS Market and GNSS User Technology Reports.
Click here to download a printed handout version of the tutorial .