Social Events
ICE BREAKER
The Celtic music group Ghillie's will be accompanied by Irish dance performers from Breizh Jiggers at the Ice Breaker.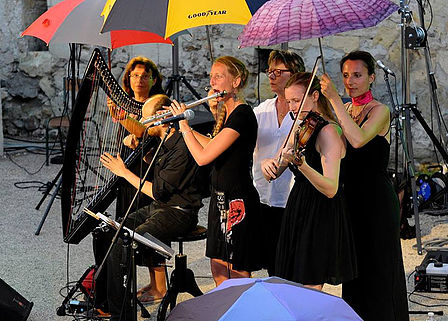 Born in 2012, Ghillie's gathered four musicians passionnate about traditional music. Their enthusiasm is galvanizing the dance repertoire, the French and Irish tunes. They are offering compositions with passion, creativity and virtuosity such as modern and original arrangements. Enthusiastically and with complicity, the band is communicating its good vibrations and musicality through a repertoire suitable for concerts but also for events.
Members of the Ghillie's band:
Philippe Carrillo: Celtic and electric harp
Eloïse Gomez: Violin
Eric Duverger: Percussions
Marine Bouzat: Flute, piccolo

When it was first imagined by Mathilde Rio in 2014, "Breizh Jiggers" aimed at bringing together local Irish dancers to create an Irish dance show very much in touch with its territory. The dancers all come from western France, and the influence of Breton rhythms and melodies permeates the pieces of choreographies they imagine to traditional jigs and reels. They naturally turned to the musicians of Ghillie's when looking for a band to collaborate with: dancers and musicians alike share a deep love for Irish culture while strongly valueing their French musical heritage. Don't miss the chance to discover this group of energetic and passionate dancers!

The Gala dinner will be held on Wednesday 26th of September at 19:30, at Les Machines de l'Île located at Parc des Chantiers, Boulevard Léon Bureau.
The registration for the Gala dinner (alone or accompanied with +1) is compulsory to attend the dinner. The registration is indicated on the backside of your badge, so please take your badge with you for the dinner.
Be ready for the exquisite meal and the entertainment surprizes of Les Machines de l'Île!


Machines de l'île ®Franck Tomps