Keynotes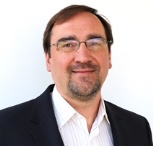 Prof. Andrei M. Shkel
Inertial MEMS Sensors are becoming 3D and atomically precise
Microtechnology comes of age. Clearly, some significant advances have been made, and we see a footprint of the inertial sensors technology in an ever-growing consumer electronics market full of interactive products enabled by microtechnology. These products include, for example, accelerometers for gaming, gyros for auto safety, resonators for clocks, and more. The questions remain, however: Is the technology really on the level of what we consider to be precision sensing? Is making sensors small necessarily result in degradation of performance? Why do we need the precision of sensing for our daily life and what are the opportunities if we have the precision at our fingertips? I will talk about some of the recent developments toward precision sensing, including an overview of glassblowing technology for 3D wineglass shell gyroscopes, silicon origami-like 3D assembly techniques for solid-state and atomic MEMS, and the futuristic concept of the Ultimate Navigation Chip (uNavChip).
Prof. Shkel has been on faculty at the University of California, Irvine since 2000. From 2009 to 2013, he was on leave from academia serving as a Program Manager in the Microsystems Technology Office of DARPA, where he initiated and managed over $200M investment portfolio in technology development. His research interests are reflected in over 200 publications, 40 patents, and 2 books. Dr. Shkel has been on a number of editorial boards, most recently as Editor of IEEE/ASME JMEMS and the founding chair of the IEEE Inertial Sensors. Dr. Shkel is the IEEE Fellow and the 2018 President-Elect of the IEEE Sensors Council. He has been awarded in 2013 the Office of the Secretary of Defense Medal for Exceptional Public Service, the 2009 IEEE Sensors Council Technical Achievement Award, and the 2005 NSF CAREER award. He received his Diploma with excellence (1991) in Mechanics and Mathematics from Moscow State University, Ph.D. degree (1997) in Mechanical Engineering from the University of Wisconsin at Madison, and completed his postdoc (1999) at the University of California, Berkeley.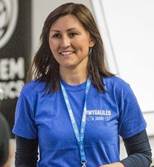 Justyna Redelkiewicz
Technology Trends in Geolocation
The technology in GNSS user equipment today is more diversified than ever before; ranging from miniaturised, low power GPS chips found in IoT trackers to much larger, more powerful and expensive receivers fitted in passenger aircraft. Furthermore, new models are being introduced at an unprecedented rate, driven by the growing performance requirements of innovative applications, developments in the semiconductor industry and to take advantage of the enhanced capabilities offered by new and modernised GNSS systems and services. In this rapidly evolving landscape, three primary dimensions of change can be identified for user positioning technology: ubiquity (continuous access to the location information everywhere), automation and ambient intelligence (e.g. enabling autonomous vehicles that can sense their environment and adapt to it) and the provision of more robust, secure solutions (resistant to interference and respecting the privacy of the users). The GNSS user technology is, now more than ever, experiencing a rapid and exciting evolution. During the presentation I will summarize the main findings of technology research in this area performed by the GSA and answer to the question "what works best in geolocation?".
Justyna Redelkiewicz is responsible for promoting Galileo, the European Satellite Navigation System, and its use in context-aware mobile applications. After a few years of work with global chipset manufacturers, she was behind the first Galileo-enabled smartphone launched in 2016, using the European technology for location-based services. Justyna is also in charge of the market and technology research at European GNSS Agency (GSA), managing publications of annual reports on satellite navigation use in various industries.

Dr. Laura Ruotsalainen
Humans inherently possess a good quality "stereo camera", namely eyes, which is their most important navigation tool. Vision is especially important for choosing the course. Early studies have shown that people tend to veer when blindfolded, which leads them walking in circles and getting lost. Therefore, the use of visual landmarks is the most accurate means of human navigation. It is not a surprise that computer vision is an essential part of navigation of autonomous vehicles. Human visual perception is capable of filling in missing information enabling the understanding of perspectives and evaluating distances and occluded parts of the objects in the scene, but for computer vision objects in the scene are just sets of points of digitized brightness value functions. Although sophisticated methods already exist, extensive research is still needed for obtaining reliable navigation solutions using computer vision. During this presentation, the use of different means of computer vision in navigation are discussed with an emphasis on the most challenging use case, infrastructure-free pedestrian navigation.
Dr. Ruotsalainen is a Research Manager and Deputy Director of the Department of Navigation and Positioning at the Finnish Geospatial Research Institute, Finland, where she leads a research group on Sensors and indoor navigation. She received her doctoral degree in 2013 from the Department of Pervasive Computing, Tampere University of Technology, Finland. Her doctoral studies were partly conducted at the Department of Geomatics Engineering at the University of Calgary, Canada. Her doctoral research was focused on vision-aided seamless indoor/outdoor pedestrian navigation. Her current research interests cover, in addition to vision-aided navigation, adaptive integration of sensors and radio positioning means for robust navigation, situational awareness and GNSS interference mitigation.